About DMP Sign Co.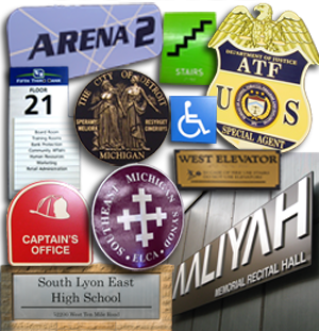 DMP Sign Co. was formed in 2016 after dividing Detroit Marking Products into separate companies.
A brief history on Detroit Marking Products first…

Detroit Marking Products began in 1918 in the apartment of founder Joseph Foerg (grandfather of the current owner). Originally named Detroit Numbering Machine Co., the company sold and repaired numbering
machines similar to the Bates Numbering Machines still widely used today. By 1920, the company took up its first official residence on Griswold in downtown Detroit.

As the company grew, it moved throughout downtown Detroit in search of larger quarters: first to State St., then to Bates St., and then to Grand Boulevard. With the 1966 purchase of Detroit Stamp & Stencil, the company changed its name from Detroit Numbering Machine to Detroit Marking Products Corporation to reflect its varied product lines. When the GM Poletown plant was constructed in 1981, the law of Eminent Domain forced the company to move to Castleton St. in Detroit.

2021 marks DMP Sign Co.'s 5th year in business as strictly a signage company. While the name might be new, the business retains the leadership and desire to be the best sign company in the area.
Three things have remained DMP Sign Co.'s emphasis: Quality, Dependability, and Value. As we continue to explore new products and services to meet your needs, you can trust DMP Sign Co. to maintain the same standards that made us what we are today.